Music 2 Hues
Flagship Royalty Free Music Library

Can't decide which tracks you want? Just get them all in both WAV and MP3 format for only $649. The complete Flagship Music library will quickly arrive on a convenient USB Thumb Drive. You will have over 2500 music tracks to use for any multimedia project you create for the rest of your life. No decisions necessary . . . you will have it all !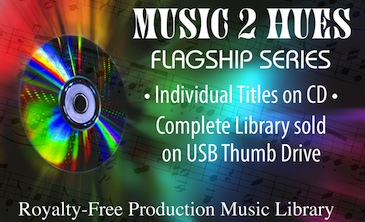 Any 3 Flagship CDs $99.00
Any 6 Flagship CDs $150.00
Any 12 Flagship CDs $240.00
Any 24 Flagship CDs $384.00
Flagship Library Complete
Lifetime Royalty Free Music License
In Stock - Order Now!
$ 649.00

WAV & MP3 Files
on USB Thumb Drive
Over 100 Categories with 800+ Themes
More than 2500 Tracks
Need Music Right Now?
Download Any Track for $19.
Flagship Special Bonus with ANY Flagship Music Order
! ! Get a FREE Sound Effects Sampler Download ! !
The Flagship Library contains hundreds of full length stereo music themes for your video, animation, website, commercial, TV show, or movie. Select a Music Style from this left column to listen to music selections from any category. You can license this wonderful music library three different ways:
1 - Download Individual Tracks or Full Categories at our Download Center.
2 - Select the Individual Audio CDs You Need.
3 - Purchase the entire Flagship Music Library on a USB Thumb Drive for ONLY $649.
This is not just a festival license - you can put your project on TV or radio, in movie theatres, paid seminars or commercial teaching videos -- wherever your project needs to be seen. You've got to design, direct, and produce, but we've got the music all ready -- just for you ! ! ! Looking for distribution??? No music licensing problems here - the music for your movie or video is royalty free and ready for distribution.
Click on any Category Link and listen ! ! ! The quality of the clear and mastered professional stereo tracks is far better than you hear on the MP3 Demos made just for web listening. These selections are original themes written for sound and picture. In addition to the long theme, you get short versions, alternate versions, and underscores where available. Just what you need to consistently use the same melody for a character, a place, or a product.
This is a 100% Royalty Free Synchronization License. You can use all of this music for any multimedia project you create - as many times as you like FOREVER ! ! !
PUBLIC DOMAIN STATUS: The Stereo Sound Files in this Library are NOT IN THE PUBLIC DOMAIN. You are purchasing an individual lifetime license to use this music for any multimedia project you create, but the music files remain the property of Music 2 Hues. You cannot copy, lend, or trade these music tracks. They are licensed only to you, the original purchaser, for use, and you cannot sell or trade these music tracks to any other person or company. You are licensed for any commercial voice-over use, but your license does NOT allow singing "karaoke" style over the tracks to release as records or CD's. You CAN use the music for any multimedia project you design for yourself or work-for-hire for others. You CAN use all of this music as many times as you like as part of any lifetime project you create.